Keep Kristjan Järvi Coming
Whether to form a continuing relationship, i.e. regular guest conducting, or to succeed his older brother Paavo as music director, the Cincinnati Symphony Orchestra should keep Kristjan Järvi coming.
Simply put, he lights a fire under the orchestra. This was apparent not only in Stravinsky's "Rite of Spring," Friday night at Music Hall, but in Haydn's Symphony No. 86 and Aram Khachaturian's Violin Concerto with guest artist Mikhail Simonyan. All -- I repeat all -- were conducted without a score. There was character, dynamism and transparency in everything Järvi did, and he appeared to be enjoying himself tremendously.
There was no better preparation for the concert than to attend the "Classical Conversation," held one-hour before (to be repeated at 7 p.m. tonight in the Music Hall auditorium). He and Simonyan spoke and took questions from the audience, with CSO associate conductor Robert Trevino as moderator. Järvi explained his premises for the program and spoke about music and conducting in general.
About Haydn, Järvi noted that, growing up, he found the composer's music "boring." Now he has fallen in love with it he said. "Maybe what I heard
was
boring instead of bright, fresh, new and shiny," he said. He has recorded Haydn's complete "Paris" Symphonies (Nos. 82-87) with the Vienna Tonkünstler Orchestra.
Can you forge a connection between Haydn and Stravinsky, more particularly between Haydn's "Paris" Symphonies and "The Rite of Spring?" Järvi can. Both caused a sensation in Paris, he said, Haydn of the positive kind, Stravinsky of the famously negative (at least initially).
As for "Rite of Spring," remember, said Järvi, it was written to be danced (for Serge Diaghilev's
Ballets Russes
). And, like all classical music, including Haydn (Mozart, Beethoven, etc.), it has its roots in folk music and dance. Stravinsky's "Rite of Spring" is laced with Russian folk idioms.
To hear and see this played out during the concert was astonishing. Järvi's approach to conducting, his gestures, mannerisms, etc., are his own, and he applied them with great skill. There was classic grace in the opening of Haydn's Symphony. In the second movement (Capriccio: Largo), he manifested a singular ability to effect mercurial changes in dynamics.
The Menuet exuded charm. Järvi sneaked into the Trio (with principal bassoonist William Winstead) with arch intent and let it dance seductively. In the Allegro con spirito finale, the music almost talked through his gestures, with lots of rhythmic emphases and character in abundance.
Just 26, Simonyan made his CSO debut at Riverbend in 2008. Khachaturian's 1940 Concerto was the perfect vehicle for his return to Music Hall. Not so often performed today (as opposed to a couple of generations ago), it is a vital work, full of Armenian folk flavor. It has been performed only once before in CSO history (in its entirety) and that was over 30 years ago. Making it even more fitting, Simonyan is of Russian-Armenian heritage. In fact, Järvi himself can claim the composer as a kind of "uncle," having met him numerous times as a child in Estonia, where Khachaturian often visited his father, the great Estonian conductor Neeme Järvi.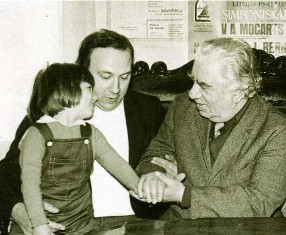 In the opening Allegro con fermezza (firmly) Simonyan demonstrated an ironclad technique as well as considerable finesse (he was covered by the orchestra at times, generally in his middle register). A high point here was the magnificent cadenza, by Armenian composer Artur Avanesov, which Järvi connected seamlessly with the orchestral tutti that followed. Clarinetist Min Na Lee made a distinguished contribution here, as she did on E-flat clarinet in the Stravinsky. Simonyan played the slow movement with utmost expressiveness, working hand-in-glove with Järvi who, again, handled the sudden transitions with pinpoint accuracy. (Perhaps this is one reason he did not use a score and why the overall performance was a lot like chamber music.) Then it was off to the races in the splashy finale, with its merry, little theme, which Simonyan rendered like a folk fiddler. The audience responded in a flash, with a standing ovation, which prompted an encore from the young violinist, a soft, soulful, ultimately soaring Armenian Prayer.
Järvi's "Rite of Spring" was all it promised to be. Remember the ballet? There was plenty of dance in Järvi's breathtaking rendition -- in the music and by Järvi himself. The CSO sounded remarkably incisive, with big statements by the brass and winds and cut offs clean as a whistle. You could have heard a pin drop in the hall in the space between a cut off and the CSO's always precise entrance following it. Järvi might have saved the peak moment in part one ("Adoration of the Earth") for the dizzying run up to the end, but it had plenty of force regardless.
His reading of the Stravinsky was also extremely transparent, so much so that this writer heard details that usually go unheard (for example, in the complex interweaving of divided strings in "The Sacrifice"). There was lots of leaping on the podium as Järvi increasingly warmed to his task in "The Sacrifice." The CSO seemed possessed, too, with stops pulled throughout the ranks, as the music came to its shattering conclusion.
Like Järvi's previous visit to the CSO, in October, 2009 with an all-Latin program, this concert was one to remember.
Kristjan Järvi conducts the Cincinnati Symphony Orchestra at 8 p.m. tonight at Music Hall in Haydn's Symphony No. 86, the Khachaturian Violin Concerto with guest artist Mikhail Simonyan and Stravinsky's "The Rite of Spring." Don't miss "Classical Conversations" at 7 p.m. before the concert with Järvi and Simonyan. Tickets begin at $10 at (513) 381-3300, or on the CSO web site at
www.cincinnatisymphony.org