Penderecki Concerto Refreshes Piano Repertoire
Mary Ellyn Hutton
Posted: Dec 8, 2007 - 12:00:00 AM in
reviews_2007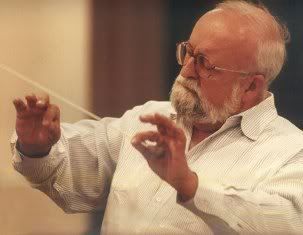 The piano, and today's concert audiences, need a rest from the overplayed 19th and 20th-century repertoire. Relief may be on the way in the form of a 21st-century concerto by septuagenarian Krzysztof Penderecki, whose 2001-02 Piano Concerto received its world premiere in a newly revised (2007) version Friday night at Music Hall.
Performing under the direction of the composer were pianist Barry Douglas and the Cincinnati Symphony Orchestra.
Krzysztof Penderecki

More a symphony concertante than a concerto, with the orchestra an equal partner, its Mahlerian sweep extends far beyond its subtitle, "Resurrection." Scored for triple winds, full brasses and a raft of percussion, it raises the roof at its peak, and there is a world of interaction along the way. It lacks Mahler's length, however, clocking in at a tidy single movement of 38 minutes.
Penderecki wrote the concerto - or rather re-wrote a Capriccio for piano and orchestra he had half completed - in the wake of 9-11. He wrote the chorale on the day of the tragedy, he said, referring to a central component of the work, a four-bar melody modeled on the Lutheran chorale, which he entitled "Resurrection" (listeners may find it similar to the familiar Doxology). First alluded to in muted violas, harp and celeste, it returns three times, finally swelling up in an apotheosis for the full ensemble, including church bells and offstage trumpets.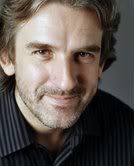 The thematic material grows out of an urgent, dotted, two-note motif first heard in the low strings. The mood is initially march-like (speaking of Mahler), as the snare drum rattle indicates. This motif is inverted in yearning passages seemingly succumbing to despair and expanded into a lovely circular theme with the lushness of Rachmaninoff. Though rhapsodic sounding, the Concerto has an overall tri-partite structure, with a central slow "movement" introduced by a plaintive English horn solo, followed by the first statement of the chorale. The opening material returns at the end for full closure, capped by an almost jazzy flourish.
Barry Douglas

The piano has plenty to do, from a grumbling, percussive beginning, where it takes up the march-like motif, to rushing scalar passages and ethereal tracery surrounding the introduction of the chorale. Douglas played it all from memory (though the new ending was not in his hands until two weeks before the performance) and with great presence, dash and conviction.
The audience - typically small for a Friday night, but not as small as might have been expected with new and unfamiliar music on the program - gave the work an immediate, standing ovation.
The same might not have been expected of Penderecki's "Threnody to the Victims of Hiroshima," heard before intermission. This severe, 1960 work for 52 solo strings is as prickly and challenging as the concerto was inviting, but the audience stood and cheered it, also. (Penderecki is something of a Cincinnati favorite, having guest conducted here a half dozen times in recent years).
The warm acoustics of Music Hall welcomed the 10-minute "Threnody," too, and it was fun to watch Penderecki conduct it, with a two-handed downbeat at the beginning of each timed segment, and graceful cues in between, as he shaped it into a very convincing piece of music. Fittingly and not coincidentally, the work was programmed for "Pearl Harbor Day" weekend (Friday was the actual anniversary of the 1941 bombing), as was the Piano Concerto itself, with its message of victory over death.
The concert opened with a gracious performance of Beethoven's Symphony No. 4, performed first with no fear that the crowd would flee afterward to avoid an untried musical experience.
The program repeats at 8 tonight at Music Hall.

(first published in The Cincinnati Post Dec. 7, 2007)