Järvi Loses Baton But Doesn't Miss a Beat
Mary Ellyn Hutton
Posted: Oct 13, 2007 - 12:00:00 AM in
reviews_2007
The Boy Scout motto, "be prepared," must be Cincinnati Symphony music director Paavo Järvi's motto, too.
Though it wasn't the most stirring thing that happened at Thursday
evening's CSO concert at Music Hall, it did cause a moment of concern
when Järvi's baton struck his music stand and flew into the cello
section as guest artist Vadim Repin and the CSO neared the end of Beethoven's Violin Concerto.
Järvi put his hand to his mouth briefly (out of concern for
principal cellist Eric Kim who was in the line of fire), picked up
another baton and resumed conducting as if nothing had happened
(apparently he keeps an extra on the podium). Kim appeared not to have
missed a note, however, and the concerto came to a rousing conclusion.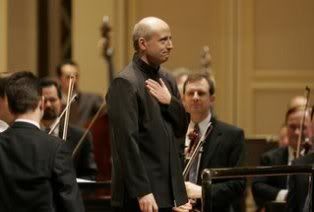 Paavo Järvi

The true excitement of the evening lay within the music itself, even
in the way it was presented. The Beethoven came last, preceded by

.

Gustav Mahler

three symphonic movements by Mahler.
"Todtenfeier" ("Funeral Rites"), which Mahler turned into the first
movement of his Symphony No. 2, opened the concert. Next came the
Adagio from his unfinished Symphony No. 10, which dwells on the end of
life. First after intermission was "What the Wild Flowers Tell Me,"
second movement of his Symphony No. 3 arranged in 1941 by Benjamin
Britten. A CSO premiere, it could have been new life pushing through
the earth. Beethoven, in whose shadow Mahler (and everyone else)
wrote, made the perfect, upbeat ending with one of his best-loved works.
All of this was done, like the baton, with the utmost preparation.
Järvi does not like to speak to audiences before (or during) concerts.
It's nothing personal, he says. He doesn't like to speak to anyone
before concerts, but tries to clear his mind and focus his energies
solely on making music. (For an engaging substitute, the CSO has begun
projecting program notes by Järvi onto a screen over the stage before
his concerts.)
"Todtenfeier," musicologists say, was inspired by a poem about a
young man who commits suicide when the woman he loves marries another.
Järvi poured trauma to match into the CSO performance: anger in the
cellos and basses, soft, sudden tenderness in the violins, nostalgia in
the English horn, chaos culminating in a big drop off, then despair
heard against muffled cymbal, heaving horns, a shriek in the trumpets
and downward tumbling scales.
"Like a stab in the heart" is how one member of the audience
described the fortissimo outburst in Mahler's Adagio, with its high C
held for seven bars by the first trumpet. The violas opened with a
hushed, tender melody, sounding like one instrument. First violins
introduced a melancholy theme building to high-lying threnodies against
sorrow-laden textures. There were sardonic moments, as well, but the
anguish and terror finally subsided in an atmosphere of peaceful
resignation.
"What the Wild Flowers Tell Me" brought smiles. Vividly
orchestrated by Britten, it contrasted a gentle ländler with a whirling
mid-section, ending in a tracery of woodwind "blossoms."
Repin and the CSO made splendid partners in the Beethoven concerto.
The Russian born violinist unites exquisite musicianship with a pearly



Vadim Repin

tone and daunting technique. Järvi, having just performed the complete
Beethoven symphonies with the Deutsche Kammerphilharmonie Bremen on
tour, led as if born to the task, and I found myself relishing the CSO
every bit as much as the soloist.
Järvi approaches Beethoven with a fresh, newly energized approach
and it showed here, as in his kick-in-pants transition to the lovely
second theme in the first movement. He is extremely attentive to
detail also, often bringing out a line, color or texture you may not
have heard before. Almost chamber music-like dialogues between the
soloist and orchestra were many. Some of my favorites involved the
bassoons, including principal Bill Winstead's embroidery-like
interaction with Repin in the Larghetto and a charming "oom-pah" moment
in the finale with Repin and Winstead against the CSO.
Repin was compelling in the softest moments, as in the Larghetto,
where it grew so quiet in the hall that the only sound was his violin
against soft pizzicato or with a quartet of woodwinds or a pair of
unbelievably faraway sounding horns at the end. He was commanding in
the cadenzas, full-voiced and flowing, and he scampered nimbly with the
CSO in the finale.
Repeats are 11 a.m. today, 8 p.m. Saturday at Music Hall.

(first published in The Cincinnati Post Oct. 12, 2007)