Colossus of the Baltic
Mary Ellyn Hutton
Posted: Dec 1, 2012 - 6:16:36 AM in
news
Neeme Järvi spent his 75th birthday (June 7, 2012) working.
Specifically, recording the Symphonies No. 4 and 6 by Kurt Atterberg with Sweden's Gothenburg Symphony Orchestra.
Anyone who knows the Estonian-born maestro would not find that surprising.
"It's Neeme Järvi we're talking about," said Lars Nyström, former manager of the GSO, where Järvi spent 22 years as principal conductor. During his 11-day visit, Järvi led two subscription concerts and an outdoor concert June 6 on Sweden's National Day, where 25,000 listeners sang him happy birthday.
Järvi was just doing what he loves. "My calendar is completely full," he said, between engagements last spring. "My home is where my things are." During his anniversary year, he re-visited some of the orchestras he has built during his long and productive career, including Gothenburg, the Detroit Symphony and the Royal Scottish National Orchestra. He left one post (the Hague Residentie Orchestra, where he is now chief conductor emeritus), and took up another (music and artistic director of L'Orchestre de la Suisse Romande). And he completed his first season as artistic director of the Estonian National Symphony Orchestra (ENSO), where he began his career a half-century ago.
Järvi is one of the world's most-recorded conductors. He has made nearly 500 recordings (not counting LPs he made before emigrating from the Soviet Union in 1980). Among them are complete cycles by Brahms, Dvorak, Glazunov, Grieg, Martinu, Nielsen, Arvo Pärt, Prokofiev, Rimsky-Korsakoff, Shostakovich, Sibelius, Richard Strauss, Stravinsky, Tchaikovsky and lesser known composers such as Hugo Alfven, Franz Berwald, Zdenek Fibich, Niels Gade and Wilhelm Stenhammer.
Said the GSO's Nystrom: "When he started in 1982, this was a small provincial orchestra. We had 80 musicians. When Neeme came, he got a big sponsorship from Volvo, and they promised to pay the salary for 20 new musicians. That same year the orchestra made its first big international tour, to the States. Two years later, we got a contract with Deutsche Gramophone. The first recording for DG was Swedish composer Berwald's four symphonies. We got the French prize Diapason d'Or for that." In 1997, the GSO was designated "National Orchestra of Sweden" by the Swedish government.
"The Royal Scottish National Orchestra had a golden age" with Järvi in the 1980s, making some of their finest recordings for Chandos," said British conductor James Lowe. "They say that the first time he visited, on a rare travel permit out of the Soviet Union, the orchestra applauded him at the first break. He had said nothing, only showing them what he wanted with his hands and eyes."
Chandos' association with Järvi goes back to the first time he conducted in the U.K. (1981), said producer Ralph Couzens. "We knew then that this conductor had something special. His conducting technique is an art that everyone should watch. Apart from perfect control with his hands and expressions from his face, there are signals coming from his shoulders, hips, even the lift of a leg." When recording, "his secret is the art of performance. He is not one for recording a few bars at a time. He wants to shape a whole performance while the tapes are running. What comes is electric and full of passion. That is what Neeme is known for and why Chandos has made so many recordings with him (over 300)." His Chandos recordings have included award-winners from Gramophone and two Toblacher Komponierhäuschen prizes, that latest in 2011 for Mahler's Symphony No. 7 with the Residentie Orchestra.
Järvi's tenure in Detroit was also "a golden age," said Mark Stryker, music critic of the Detroit Free Press. "His infectious personality and the excitement and sense of adventure he brought to the stage became the foundation that allowed the orchestra to rise to new heights. More than one out of four pieces he conducted here were works the DSO had never played before. Most significant were the dozens of neglected American works he performed and recorded, including those by Amy Beach, George Chadwick, Samuel Barber and important black composers such as William Grant Still, Duke Ellington and Olly Wilson. Neeme made a specialty of vernacular-influenced American scores, whose jazzy rhythms he translated with more elasticity and authority than most homegrown conductors."
A native of Tallinn, Järvi studied conducting at the Leningrad Conservatory with Nikolai Rabinovich and Yevgeny Mravinsky. He became principal conductor of the (then) Estonian State Symphony Orchestra in1963. "He was very highly respected from the very beginning and was always welcome to conduct the major orchestras in Moscow and Leningrad (St. Petersburg)," said Russian-born conductor Leonid Grin. "During the time he was music director of the Estonian State Symphony, it was performing at a high artistic level, and it was always desirable to go to conduct in Tallinn."
Järvi left Estonia at 42 to seek artistic freedom in the West. He had been censured for performing music frowned upon by the Soviet authorities, including Estonian Arvo Pärt's "Credo" (which quoted from the Bible). Järvi, his wife Liilia and their children Paavo, Maarika and Kristjan immigrated to the U.S. and became American citizens. Sons Paavo and Kristjan are now important international conductors. Daughter Maarika is a professional flutist. "My children are my continuation in an even better way," Järvi said. "They are wonderful musicians, fanatically doing music like me, and introducing their art to the world." (Järvi, in fact, heads a musical dynasty, with all of his children and collateral descendants pursuing musical careers.)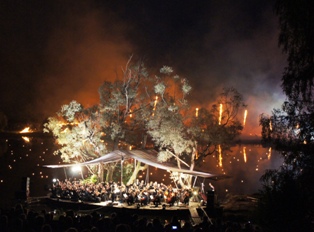 The blue handkerchief that peeks from Järvi's breast pocket when he conducts symbolizes his love for Estonia (whose colors are blue, white and black). Handkerchief in place, he capped ENSO's 2011-2012 season with a Brahms symphony cycle. In July, he led the orchestra in a birthday concert patronized by Estonian president Toomas Hendrik Ilves. He conducted the Estonian National Youth Symphony Orchestra in a birthday tribute August 2 at the annual Järvi Festival in Pärnu, and in a delightfully "pagan" encore August 4 at Leigo Lake in South Estonia. Performing on an island in the lake, he and conducting students from the Järvi Summer Academy (held in conjunction with the Järvi Festival) led opera overtures and Beethoven's Fifth Symphony, with bonfires blazing behind them onshore and candles strewn over the waters.
"Famously eclectic and always curious" (Stryker) Järvi likes nothing better than expanding the repertoire. "I like to have interesting repertoire," he said. "I don't like to repeat myself very much." He has performed and recorded music by Johan Halvorsen, Vassily Kalinnikov, Rued Langgaard, Nikolai Myaskovsky, Johan Svendsen and Sergei Taneyev and lesser-known operas by Tchaikovsky ("Mazeppa") and Prokofiev ("The Fiery Angel"). He virtually introduced Estonian music to the world, with works by Eduard Tubin, Heino Eller, Eino Tamberg and Rudolf Tobias. He is far from done, he said. Up his sleeve are Swiss-German composer Joachim Raff and Hungarian Bela Varkonyi.
Considering his range, Järvi justifiably deplores being categorized. "I am called a specialist in Russian, Scandinavian and Estonian music. What kind of talk is that? I conduct everything and I love everything. The purpose of recording is to introduce to the world forgotten composers. That's my idea. Country, orchestra, neglected music played to perfection, the relationship of conductor and orchestra. There's a lot of cities with wonderful conductors and we don't see them because of politics."
Järvi's love for music is manifest in the joy he radiates on the podium. He loves to conduct encores, sometimes encouraging the audience to clap (or sing) along. "There really is nobody like him," wrote Stryker in his review of Järvi's DSO concert in March. "He is the Uncle Fun of classical music."
"There is nothing more important than the joy that music brings," said Paavo, "but that's just one part of his personality. He's incredibly serious and knowledgeable and thinking deeply through what he's doing. He has the capacity to make you feel something through music. Sometimes it's profound and deep and sad, but he makes you feel something. That's the joy. Of course, he's also a lot of fun."
Asked what he has learned from his father, Paavo replied, "Everything. The reason I am a conductor is because of him and because of the music he introduced to us when we were very young. I remember the almost fanatical enthusiasm that he still has, about discovering new things and the intuitive approach to music, which helps me now tremendously. We have been so taught to analyze things, which is very important, but it gets to the point where we need to also trust our intuition, and he has taught me to do that."
Lowe and Scottish conductor Mark Heron, former students at Järvi's Summer Academy, echo those sentiments. "For Neeme, music is a living, breathing art, based entirely in the moment," said Lowe. "No two performances are the same, even in rehearsal. He encourages his students to find something musical and interesting at all times. No single note should be dead, no moment routine."
Said Heron, who brought two of his own students to the Järvi Academy this year. "I realized not only how vitally important my times there were to my development as a conductor, but how much of it underpins what I try to give my own students now."